We are Leading Supplier and Manufacturer from Thane, our product range includes Water Distribution Systems such as Water Distribution System in Induced Draught and Water Distribution System in Natural Draught.
Water Distribution System In Induced Draught
We are engaged in offering the most sought after range of Water Distribution System. Specially designed sprinkler head is made of aluminum alloy to avoid corrosion, also fitted with sealed ball bearings to take care of thrust & radial loads, Sprinkler Unit, which rotates through Inlet Water pressure, Distribution of water is uniform throughout the fill Area. In Square cooling tower: static water distribution system made of GI/PVC pipe with multiple branch arms and non clogging PP spray nozzles for low pressure drop and uniform water distribution throughout the fill area.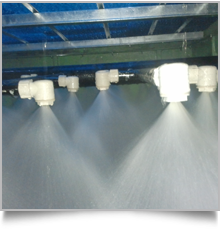 Water Distribution System in Natural Draught
We offer to our clients superior quality of wet and dry cooling towers that come with natural draught for removing the cooling air.
Cooling Process:
Wet Cooling Tower:
Where the water to be cooled comes into direct contact with the cooling air dissipating heat by evaporation and air heating.
Dry Cooling Tower:
For the closed-circuit cooling of water with no direct contact between the water to be cooled and the coolant air.